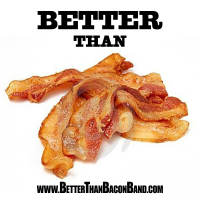 Taos Mountain Summer Music Series - Better than Bacon
Better than Bacon - 2pm - 5pm
Time: 2:00pm Day: Saturday Ages: All Ages
This Event Has Ended
Come up to Taos Ski Valley for the Taos Mountain Summer Music Series
Dance the afternoon away to Fort Collins band Better than Bacon from 2pm to 5pm.
For the kids there will be a Free bouncy castle and popcorn, sand volleyball court, horseshoes and free disc golf course and the chairlift will be running.
Bring a blanket and your picnic and enjoy the music in the mountains. Rhoda's restaurant and bar will be open.
Better Than Bacon:
Better Than Bacon is a Rock 'n' Roll band based out of Fort Collins, Colorado.

In a musical age of smoke-and-mirrors musicianship and snake-oil salesmanship, this band moves the Rocky Mountains with a throwback formula: passionate performances featuring scorching electric guitar, well-crafted songs with substance and soul, and a thumping rhythm section to match any mood.

The word is getting out and the reviews are rolling in...

"As the name suggests; bold, savory, greasy and full of fatty substance. It's good old-fashioned Rock and Roll, with sides of funk, soul, and blues all sautéed in psychedelic jams. Hailing from Fort Collins, these boys know how to serve up a beat fit for any musical palate." - Colorado Music Buzz

"Overall, the entire album is a well-constructed journey that has an intriguingly classic tone - mixing elements of blues, funk, soul, rock, psychedelic and jam with sizzling guitar, Better Than Bacon, plays like a band straight out of a bygone era" - Music Marauders.com

"With gritty lyrics, funky and soulful melodies, full-on rock and roll guitar licks and overall musical talent, the band reminds me of a Widespread Panic type - this band does not disappoint, as their soulful southern jams satisfy the same tastes as their greasy namesake" - Mousike Magazine

"A more old-school approach of trying to honor the spirit and emotion of the music" - Vail Daily

"The show was a rocking spectacle with the right amount of give and take, with attention to songwriting and crafting great music." - Music Marauders.com